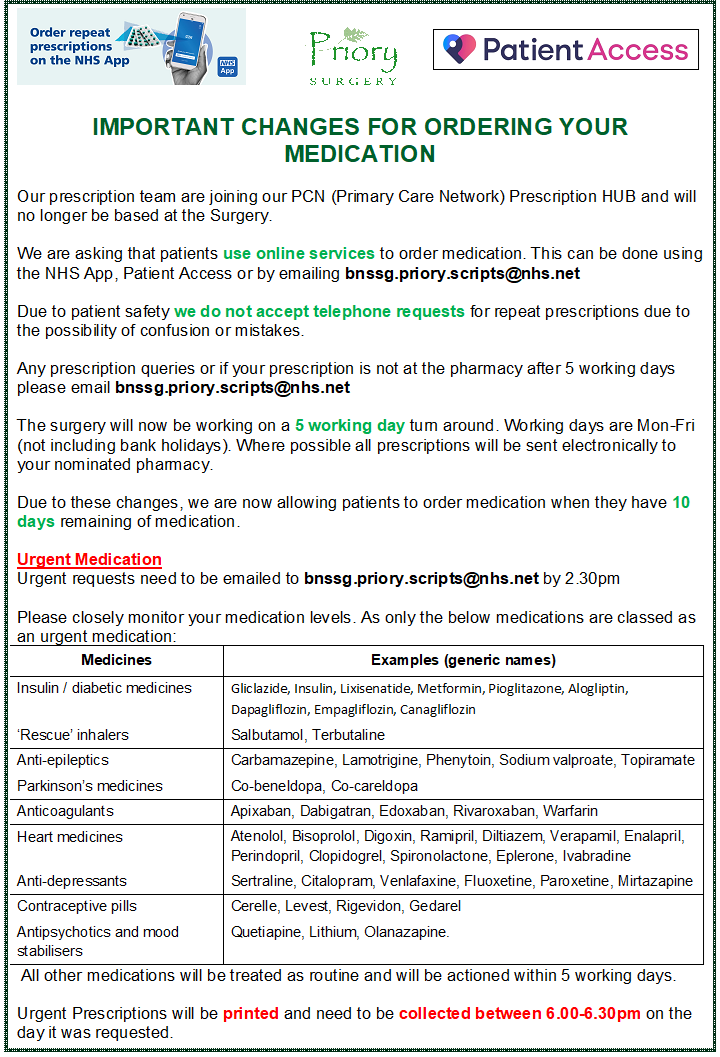 8th Sep
IMPORTANT CHANGES FOR ORDERING YOUR MEDICATION
Important changes for ordering your medication
Our prescription team are joining our PCN (Primary Care Network) Prescription HUB and will no longer be based at the Surgery.
We are asking that patients use online services to order medication. This can be done using the NHS App, Patient Access or by emailing bnssg.priory.scripts@nhs.net
Due to patient safety we do not accept telephone requests for repeat prescriptions due to the possibility of confusion or mistakes.
Any prescription queries or if your prescription is not at the pharmacy after 5 working days please email bnssg.priory.scripts@nhs.net
The surgery will now be working on a 5 working day turn around. Working days are Mon-Fri (not including bank holidays). Where possible all prescriptions will be sent electronically to your nominated pharmacy.
Due to these changes, we are now allowing patients to order medication when they have 10 days remaining of medication.
Urgent Medication
Urgent requests need to be emailed to bnssg.priory.scripts@nhs.net by 2.30pm
Please closely monitor your medication levels. As only the below medications are classed as an urgent medication:
| | |
| --- | --- |
| Medicines | Examples (generic names) |
| Insulin / diabetic medicines | Gliclazide, Insulin, Lixisenatide, Metformin, Pioglitazone, Alogliptin, Dapagliflozin, Empagliflozin, Canagliflozin |
| 'Rescue' inhalers | Salbutamol, Terbutaline |
| Anti-epileptics | Carbamazepine, Lamotrigine, Phenytoin, Sodium valproate, Topiramate |
| Parkinson's medicines | Co-beneldopa, Co-careldopa |
| Anticoagulants | Apixaban, Dabigatran, Edoxaban, Rivaroxaban, Warfarin |
| Heart medicines | Atenolol, Bisoprolol, Digoxin, Ramipril, Diltiazem, Verapamil, Enalapril, Perindopril, Clopidogrel, Spironolactone, Eplerone, Ivabradine |
| Anti-depressants | Sertraline, Citalopram, Venlafaxine, Fluoxetine, Paroxetine, Mirtazapine |
| Contraceptive pills | Cerelle, Levest, Rigevidon, Gedarel |
| Antipsychotics and mood stabilisers | Quetiapine, Lithium, Olanazapine. |
All other medications will be treated as routine and will be actioned within 5 working days.
Urgent Prescriptions will be printed and need to be collected between 6.00-6.30pm on the day it was requested.